Comprehensive landlord apartment guide with links to listings.
Every rental. No fee.
$25
Delivered via email as a Word or PDF file.
New listings by owners daily.
Think Zagat. For Renters.
Only $25
Thousands of no fee rental listings at your fingertips.
Delivered via email as a Word or PDF file.
Parameters: Kips Bay is bounded by 34th Street to the north, the East River to the east, East 27th Street to the south, and Third Avenue to the west. Kips Bay is a small neighborhood but it's packed with great apartments and hidden gems. The old saying "good things come in small packages" holds true for this oasis.

It's a very residential area and yet with the heliport and phenomenal views of the East River it has everything you'd want and more. Prices are less here than in neighboring Gramercy Park with access to downtown and the rest of the city at your doorstep. The avenues are busy but the side streets are quiet with leafy trees and quaint shops.

Old brownstones from the days of horse-drawn carriages to new luxury apartment buildings make this an area that has many personalities. You can even find one of the rarest and oldest buildings in New York City at 203 East 29th Street. It's an old wood frame house built in the late 18th century and one of a handful anywhere.

The esplanade is breathtaking. This is an area by the East River with sweeping views of Long Island City, the Queensboro Bridge and the striking blue water. You'll pass NYU's medical schools, the U.N. International School and Bellevue Hospital (the city's oldest hospital) along the way. The Water Club, a fancy restaurant on a yacht is a must do, must see.

Food choices include lots of Indian restaurants – so much so that both Kips Bay and Murray Hill have been nick-named "Curry Hill." These range from casual lunch spots to nice dining places and with each one serving up delicious dishes. If you've never tried Indian food, you can ask them for "mild" and work up to the real deal. You'll be happy you did.

We can't talk about Kips Bay without talking about the new and ultra-cool American Cooper Building along the neighborhood's East River border. The rents are high but the amenities are magnificent as are the apartments with floor to ceiling windows.

No one would ever know that in 1974 Kips Bay was farmland and a place leased as a quarantined facility for people with yellow fever. Tuck that into your who know category as you're getting acquainted with your new neighbors.


Kips Bay no fee rentals, Kips Bay no fee apartments, Kips Bay no fee rental apartments, about Kips Bay in New York City.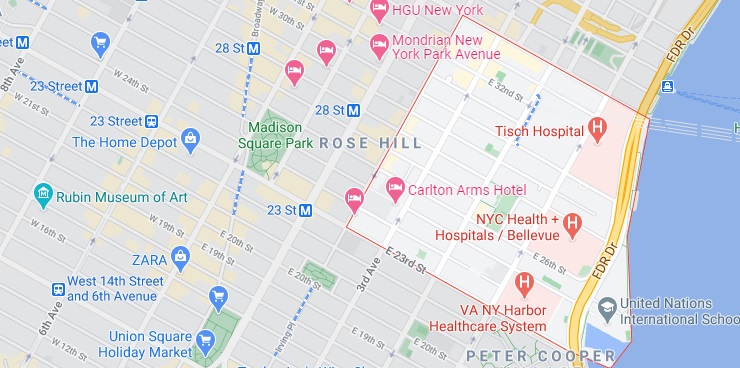 Other neighborhoods/boroughs near Kips Bay: